Bicycle
Probably you can only see a view like in the right picture long-long time ago in Indonesia, or maybe you still can find it now just in the small villages. Now the bicycles have been replaced by motor bicycles or motor cycles.
When in junior high school, I ride also bicycle to the school. The distance between my home to the school is about 3 km. Usually all my friends and almost students ride bicycle to their schools.
In Germany, I can still find a lot of people ride bicycle to their offices or schools. There are also bicycle lanes or bicycle ways available for them, so they can ride the bicycle safely.
The right picture is taken when I was in Goettingen last week. In front of (or behind) the Goettingen's Central Station, I found a big bicycles parking area full with the bicycles. Looking this, my memory flew back to the time when I was in junior high school. I remember that my school also has a big bicycles parking area like that. Now, the parking area is no more exist because almost students are using bus to go to school.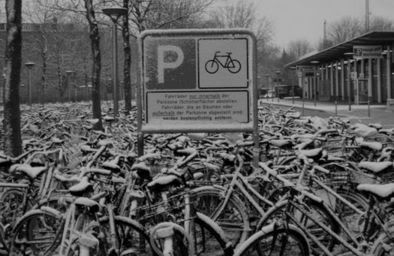 If I look into some bicycles, I then remember that those bicycles are same as my grand father's bicycle. An old style bicycle that probably rare and difficult to find now in Indonesia.
I don't know why people in Indonesia left using bicycle and replace it with motor cycle. Yes right if you say that motor cycle is faster than bicycle, but you need extra money to buy the fuels, you need a license to drive, you have to pay more expensive tax, etc...etc...
I think, if a place like Jakarta gives public facilities such as bicycle way to the people, some people maybe would like again to use bicycle as their transportation tool. Some of the positive impacts of reusing the bicycles as transportion tools are decreasing the air polution, make people more health, budget saving, etc... etc...
What do you think? Do you agree with me, or maybe have different opinion? Please let me know! :)